6 Factors that Affect the Cost of a Ceiling Hoist Installation
Ceiling track hoists are commonly used in care homes, hospitals and SEND Schools to transfer individuals safely from one position to another; either within a single room or to transfer them between rooms. They are unobtrusive and help maintain essential floor space in care settings where a less cluttered environment is a safer environment. Ceiling hoists can also support organisations considering single-handed care and the benefits that come with it.
Ceiling hoists are beneficial because of how versatile and flexible they can be to meet your service user's needs. However, this also means it can be quite daunting if you're unfamiliar with all the things to consider when deciding on a ceiling hoist.
Along with these considerations are the many factors that affect the cost of a ceiling hoist installation which centres around the cost of materials and labour. This article covers these different factors to give you a better understanding of what affects the cost, both for the actual equipment and the installation.
1. Specification of the ceiling hoist unit
There are several manufacturers of ceiling hoist pods (otherwise known as the ceiling hoist motor unit) and tracks that come with different specifications for different requirements and so will vary in cost accordingly.
There are entry-level pods for those on a budget as well as higher-end pods with high specifications. Using the guide below, you can work out what it is you need from a ceiling hoist which can determine which one you choose. All of these must take into account the needs of the service users, your care staff, the environment the equipment will be used in as well as how much the hoist will be used.
Type of ceiling hoist pod
Ceiling hoist pods can either be 'Fixed' or 'Portable'. Fixed ceiling hoist pods cannot be removed from the tracking (which is the most common installation). Portable is where the pod can be removed from the tracking, and then transported to another track in a different room, then connected and used there.
Whilst 'Portable' pods can help reduce the cost (as you don't need a hoist pod in every room that has a track), we are finding that this application is less common in the current climate, due to the infection control risks, as hoists pods are moved from one bedroom to another. As a service provider, we notice that 'portable' pods suffer increased damage when they are removed and transferred between rooms which are increasing their overall costs as they require more repairs.
It's also not a suitable option for heavy use environments or where care is needed for high-dependency users – this is where a fixed hoist will be more beneficial.
The Safe Working Load
The safe working load (SWL) determines the maximum load or weight that a piece of equipment can safely lift in a predefined configuration. Most hoist and track installations will have a SWL of around 200kgs but if you require a greater SWL, this could increase your costs. As more fixing brackets will be needed to secure the track and ensure it holds the weight requirement for your user. Labour costs can also increase as it can take longer to install.
Manual Traverse (2-function) or Powered Traverse (4-function) Ceiling Hoists
Ceiling hoist pods come with different traverse options and options for lifting the hoist up and down.
A manual traverse or 2-function hoist means you move the hoist along the track yourself by pushing and pulling the unit but the lift is powered through the handset. This is the least expensive option and is suitable for the majority of users and care staff. It allows full control of the speed of the hoist as well as the location of the lift.
The alternative is a power traverse or 4-function hoist which controls the movement of the unit along the track, as well as the lift via the handset. Whilst this option is more expensive, it can be beneficial for bariatric residents or carers who aren't able to push and pull the unit. It is also beneficial in a pool environment where the hoist crosses over the pool.
The option you choose will depend on your preferences and requirements.
Charging method
Different hoists come with different charging methods depending on your needs and budget. The common charging methods include continuous charge, dock charge and handset charge.
A continuous charge is where the hoist charges anywhere along the rail – meaning it can be left in any location after use. Due to the components needed and the more advanced manufacturing process, this is the most costly option.
Dock charge and handset charge are cost-effective charging methods and suitable for most environments. A dock charge hoist uses a docking station on the end of the track. Whereas with a handset charge hoist, the handset is placed in a handset dock installed on the closest wall.
Look and style
Whilst this factor might not be as important as the ones above, especially for the service user, it still needs to be considered. For example, you might be a care home group that is keen to position yourself as a luxury care home with finer finishing touches. This can attract private residents to your home, as the room looks homely, rather than clinical. As well as retain care staff, who are attracted with the high-quality equipment you have installed. So a modern and discreet ceiling hoist and track might be your preference, whereas if budget is your sole driver, then a more cost-effective solution can be installed, but this will be larger and more obtrusive in the room.
2. Ceiling hoist track design and layout
Another factor that affects the cost is the track itself. The considerations with this include the size and shape of the room, the coverage required for the user's needs and if there are multiple rooms to consider.
Due to the flexibility of ceiling hoist tracks, there are multiple layouts and designs that you can have. The simpler the design the less your system will cost in both materials and labour. As with most factors, price is important but not the only thing to consider. After all, you (or your supplier) doesn't want to install a hoist system that only meets some of your needs.
Straight Track or H Frame (X/Y System)
If you only need to transfer someone from point A to point B (along a straight line), such as from a bed to a chair, then a simple straight rail might suffice.
However, if you need larger room coverage with multiple transfer points within the room, then an H Frame would be more beneficial. This is helpful for service users who are prone to falling, as it can lift them from the floor in any part of the room.
To give you an idea of the costs involved, we provide approximate costs for the common layouts of ceiling hoists later in the blog.
The shape of the room
The shape of the room may also influence the layout of the track you need. Some new build care homes design the ensuite bathroom door at an angle that saves space in the room. However, this can drive costs up if you want ceiling hoist capabilities within the individual rooms.
By instructing your ceiling hoist partner at the start of the design phase, they can give you these pointers. Such as reducing the height of the walls in the en-suite so that an H system can be installed. Therefore, providing full coverage in both rooms as the traverse rails can move over the partition walls. This is just one example of how you can create a seamless transfer for your residents.
3. Structure of the building
Buildings can vary significantly from traditional converted properties to purpose-built modern facilities. This means their structure and internal design can vary which might impact the cost of your ceiling hoist installation.
Structural elements to consider include:
Ceilings and roof
What are the ceilings and roof made out of, what access is available and how much load can they take? Are there access hatches and lights that need to be considered? If it's a new build, can any considerations be factored into the design phase to save costs later on?
This can affect the cost of both material and labour, depending on what fixing points are needed, the design of the track system and how long it will take to install.
Walls
What are the external and internal walls made out of and how much load can they bear? Are there any windows or doorways that might conflict with a fixing position?
This will influence the design and layout of the ceiling hoist, as well as the fixing methods required.
Access to the rooms
Is there easy access to the rooms or will your supplier need to find creative ways to get the equipment into the room for installation? This can sometimes influence the cost if they need to get more people involved or hire specialist equipment to help.
Remedial Works
Do you need any remedial works to be completed before a ceiling hoist installation project commences? This also needs to be factored into the cost. i.e. is an electrically fused spur required? Do any pendant lights need to be changed to spotlights, to prevent hoist rails from hitting them?
All of these points will be discussed with you at your site survey to ensure that everything is accounted for upfront and ensure no unexpected costs will arise. For the majority of projects, a standard system and fixing points will be suitable, but it's good to keep these factors in mind, in case you do see costs from suppliers increasing.
4. Fixing methods required
This brings us to another key factor that can affect costs with ceiling hoist installation projects. The structure of the building will also influence the fixing methods required. Your supplier needs to understand what is available to fix, and how many fixing points are required. As with some of the other factors, the fewer fixing points needed, the less this will cost in material and labour.
Ceiling fixed hoist
Ceiling fixed hoists are a common solution where there are fixing points within the ceiling. For a straightforward installation of an H Frame in a standard concrete slab ceiling, standard fixing points can be used which doesn't affect the costs too much. However, in some buildings, there are cables, access panels, ductwork, pipes etc., in a void above the ceiling that might be in the way of creating a stable fixing, so alternative methods or additional fixing points and material might need to be used. As you would expect, these will soon increase the costs of both materials and labour.
Wall fixed hoist
A wall fixed hoist is where the track is fixed either directly into a wall or onto a slimline wall post. These options will depend on if you have a solid wall (brick or block) that can take the load directly or a stud wall that needs a post. Wall fixed ceiling tracks also come in larger profiles (heights) depending on the span of the track and the safe working load needed. The size of the rail needed will affect the cost of materials for your ceiling hoist installation.
These factors will be determined and discussed with you in your initial site survey.
5. Height of the installation
The height of the room that the ceiling hoist is installed in, will also influence the cost. For a standard ceiling height of around 2.4 metres, the cost shouldn't vary too much.
However, if you have a higher ceiling, which is a common occurrence in a school hall, swimming pool area or communal rooms, you'll need additional material to help stabilise your ceiling hoist and to prevent side-to-side movement when the hoist is being used.
There are recommendations in place from manufacturers regarding ceiling height and materials used. For example, if the distance from the fixing point to the rail is 800mm or more, you will need stabilisers in place which will increase the costs. Or if you have a particularly tall ceiling, you'll need additional accessories to help you use the ceiling hoist such as extensions for lift tape, handset and emergency lower which all increases the cost.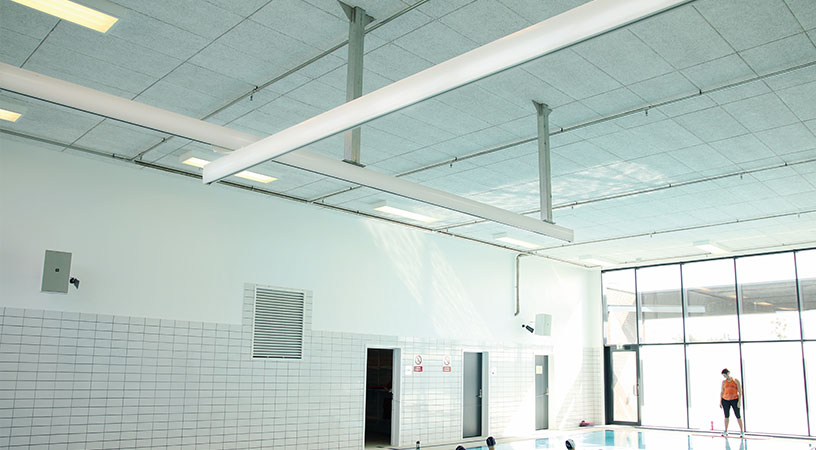 6. Maintenance and warranties of the ceiling hoist and tracks
The final factor to consider is the whole-life cost of the ceiling hoist, not just the initial project. There are ongoing costs involved to service and maintain the equipment once it has been installed.
The type of environment the ceiling hoist is used in and the frequency of use will determine the amount of wear and tear the hoist receives. For example, in a pool or hygiene area, corrosion can occur on the components over time which means it requires more maintenance to keep it in good working condition.
Even considerations such as the charging method can have different costs associated with them. For example, a continuous charge rail will cost more to repair, than a standard rail if something goes wrong because the whole track needs to come down to fix the issue. However, a dock charge or handset charge will cost you small amounts over time, in replacement batteries. This is similar to a discreet rail which may benefit the look of your room but can be more difficult to repair and so will cost more overall.
Warranties are also something to consider when choosing which manufacturer and supplier to work with; they can range from 1 to 3 years and cover different aspects of the hoist, track and workmanship.
Example costs of a ceiling hoist installation
As you can see from the list above, every ceiling hoist installation can be different and adapted to work in many different ways to meet the needs of the care facility and the users.
This means it's hard to give a fixed price without discussing your project. However, what we can do is give you some guide prices for common configurations for a standard ceiling hoist installation with standard ceiling fixes.
Please be aware, these don't take into account all the factors above that impact ceiling hoist installations but should give an approximate price range for you to consider.
3 metre – Straight Track
£1900 – £2500
3 metre – H System
£2500 – £3500
3 metre – Straight track room to room system
£3800 – £5000
You can get in touch with our installation team for a free, no-obligation, accurate quotation for your project.
How to compare ceiling hoist installation quotes
If this seems like a lot to consider, you're right! There are so many factors that affect ceiling hoist installations, which means it is important that you understand your quotations before comparing them. Of course, you'll be looking at price to make sure it fits with your budget but this shouldn't be the only factor when selecting a ceiling hoist supplier and installer to partner with.
Also, consider their:
Understanding of your requirements

Expertise and knowledge

Project timelines

Warranties and guarantees

No hidden costs

Trust and credibility
Our first instinct is to compare prices and go with the cheapest option, we're all guilty of this. It can work out well when buying consumables but you should be cautious of this practice when looking for manual handling equipment. At first, the cheapest quote may look appealing but it could mean that it's a lower-quality product that will require more follow up maintenance, or it doesn't quite meet all your needs.
This is why it's important to check you are comparing like-for-like quotes. Medaco can help interpret your quotations to make sure each supplier has covered everything you require.
You also need to check that your requirements have been interpreted correctly so that the ceiling hoist installation you have been quoted, will fully meet your requirements both short and long term.
Are you ready to explore your ceiling hoist options?
As you can see, multiple factors influence the costs of a ceiling hoist installation.
If you're embarking on a new build project, it is recommended you involve a ceiling hoist supplier and installer as early on as possible. Those with the knowledge and expertise, such as Medaco, can work with end-users, architects and contractors to ensure all the above factors and considerations have been taken into account. Therefore, avoiding unnecessary costs later in the build. We can visit your site for a free survey or design a system from plans to give you an idea of the costs involved.
If you're considering replacing a ceiling hoist track or installing a new one retrospectively into your building, get in touch with us. We work with many different suppliers to offer solutions that meet our customer's needs. Whether it's just replacing the pod unit, replacing or extending an existing system, or you'd like a new ceiling hoist track installed, Medaco works with you to support your requirements and budget.
If you're ready to take the next step in the process and receive an accurate cost for your ceiling hoist installation, please get in contact today.
One final note is to remember that once installed, your ceiling hoist system will need to be serviced and maintained. So make sure you factor this into your budget too, along with any warranties provided.
You ask – We answer
This blog is from a new series focusing on 'You ask – We answer' where we aim to answer the hard-hitting questions our customers are asking. If you have a burning question you would like answered, just type it in the box below.
Interested in more articles like this? Sign up below to get notifications of new articles published.
If email isn't your thing, follow us on our social channels for all the latest updates from Medaco.